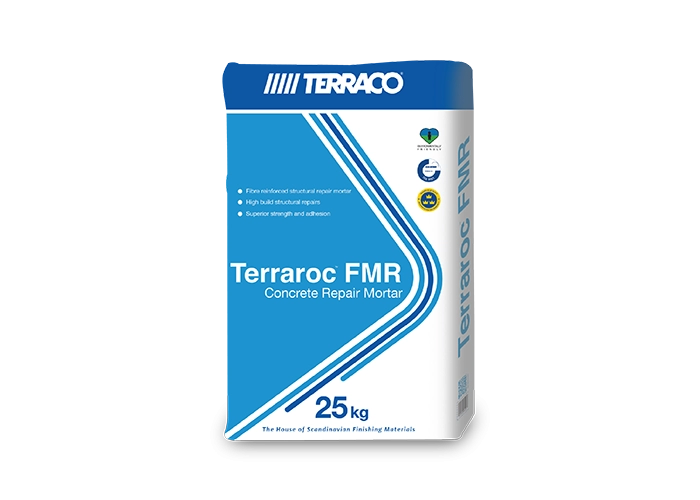 Terraroc FMR is a high strength structural repair mortar for vertical and overhead repairs. It is suitable for hand or spray application. Terraroc FMR is shrinkage compensated and is suitable for repairs up to 75mm on vertical surfaces and 50mm on overhead situations.
Properties
Terraroc FMR is a pre-mixed blend of special cements, plasticizers, fibres and shrinkage compensating additives with the following properties:
Ready to use
Shrinkage compensated
Factory controlled mix design
High strength fibre reinforcement
Low permeability with excellent durability
Areas of Use
Terraroc FMR is designed for use as part of the Terraco concrete repair system and is recommended for high-build repair work up to 75mm vertically and 50mm overhead, in a single application.
Surface Preparation
Do not apply at temperatures below 5oC. Remove all defective concrete back to the reinforcements, treat reinforcements with Epiprime ZR (see separate data sheet). Avoid feather edging. The repair area should be a minimum depth of 10mm. Thoroughly wet the surface with water and apply a coat of Terrabond A by scrubbing it well into the surface.
Allow it to become tacky before applying the Terraroc FMR.
Mixing
Ensure that the mixing water is constant for each bag of compound (5ltr water / 25kg Terraroc FMR). A mechanical mixer is necessary to ensure consistency of the final mix. Add the powder to the water and mix continuously for 3 to 5 minutes.
Application and Cleaning of Tools
Apply to the prepared substrate by trowel ensuring that it is well compacted onto the primed surface/reinforcements. Build up in layers until the desired thickness is achieved. Where very thick sections are required allow the initial layer of Terraroc FMR to set, scratch the surface to provide a mechanical key and prime with Terrabond A before applying the final layer of Terraroc FMR. Finish using a steel float. Terraroc FMR should not be applied in layers less than 10mm.
Clean tools and equipment with water after use.
Curing
Terraroc FMR should be cured immediately after troweling is finished by applying Terrabond A to the surface. In harsh conditions the supplementary use of hessian or polythene must be used to ensure proper curing.